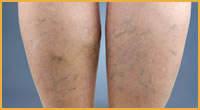 Spider veins – you know, those blue, squiggly lines on the sides of your nose or on your legs. How much do you actually know about them? Some of the things you may know about these veins may not even be true. There happens to be a lot of misconceptions about spider veins, because it's a commonly misunderstood condition. Although they are similar to varicose veins, the two conditions are different.
Below, we share with you some popular myths about spider veins.
Myth #1: Only women can get spider veins
This is false. Men and women can develop these veins.
Myth #2: Spider veins can only be found on the legs
It is true that spider veins are most commonly found on the legs and around the ankles, but they can also develop on the face, especially on the sides of the nose. These veins can easily appear on fair-skinned faces if that person does not take the proper steps to protect him or herself from the sun's rays.
Myth #3: Certain topical creams can make these veins disappear
There is no scientific proof or evidence that any cream out there, including those with Vitamin K, can eliminate these veins. However, these creams may help reduce the appearance of the these veins, but again, that is no guarantee.
Myth: Older people are the only ones who should worry about these veins
This is false. Even though age is a major factor in the development of spider veins, these veins can develop on a person at any age.
Myth: A person cannot prevent spider veins
Although not 100 percent guaranteed, there are many things a person can do to prevent the development of these veins, including maintaining a healthy weight, not crossing legs often, and not wearing heels often.
For the most part, these veins are a cosmetic issue, and do not need medical attention. However, if these veins do become painful or bleed, it is time to see a vein specialist. If you suffer from these veins and would like them removed, Dr. Peter Mikhail is a vein specialist based in New Port Richey, FL, who treats patients in the Tampa and Clearwater areas. To book an appointment, click here or call 727- 312-4844. Check back next month for more spider veins myths!